I wanted to share with you all about a couple of opportunities I had this week.
First, I was asked to come speak to a small group of young ladies about Fashion. Hello, um yes, I'd love to!! The night was filled with Make-up tutorials from a MAC Makeup Artist, hair tutorials by a Hair Stylist & me to touch on fashion. It was fun to watch these young ladies take everything in. It was hands on so they did everything right along with the instructors. It was an intimiate setting so everyone got personal attention while learning new things right along side their friends. I even walked away with some new makeup tips & a new way to curl my hair that I LOVE! I'd love to connect you to a video or link right now to show you this curl, but alas, I cannot find anything like it on Youtube!! Erg! I may have to figure out a way to show you guys a very simple tutorial on it, but time escapes me right now. If I get up the gumption, I may just have to do it so you can try this yourself!!
Anyway, I just talked to the girls about a few important things regarding fashion & then we talked about all the fun things too!! I told them the very same things I would tell any girl/young lady/woman & it went something like this.
The Boring Stuff:
Dress with a Purpose: Don't just get "dressed", put on an outfit. I have said it time & time again, & will continue to say it unitl I can't anymore. Make it a priority to put on something every day that makes you feel something positive! Whether that something "positive" is pretty,or happy, or sophisticated, or preppy, or sassy, or bright, or cheerful, or confident, etc!! When what we are wearing makes us feel something positive, we not only boost our own self esteem, confidence, & worth, we also subconsciously project ourselves differently to others. It's a win-win!
Impressions: Remember that what we are wearing is the first impression people have of us. Present yourself they way you would like people to think of you. This includes exercising modesty with certain garments & respecting ourselves as well.
The Fun Stuff:
Colors don't have to match, they have to "go": If you've been reading this blog for any amount of time, you already know that I live by this statement. The girls from the group & I went over the many possibilities of mixing-&-matching colors rather than being "matchy-matchy". They really embraced the concept & had a natural instinct on what went with what. I was very impressed!
Accessorize: Luckily the girls all had a love for jewelry, so we played around a little more with color concepts & using accessories to "add the cherry on top". We also talked about wearing scarves & a few ways you can tie them. All of these options will take an outfit to the next level & give it that "purposeful" appearance.
Fancy-Casual: Taking one "fancier" piece of clothing or accessory & adding it to an otherwise casual outfit. For example - a sequined skirt with a structured tee & Converse, or a graphic tee with jean shorts & a rhinestone statement necklace, or a sophisticated lacy dress with a tie-front chambray. All of these options are fabulous & on-trend & will invoke that something positive in what you have on.
All in all, super fun night that I was honored to be a part of! My hope is that each girl walked away with some new insight & that they felt inspired to try something new in their wardrobe.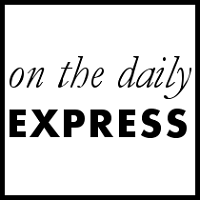 The second opportunity that came my way was a
Coast-to-Coast Trend Survey
sponsored by Gina over at
On The Daily Express
. The survey covers what's popular & what's not from different regions around the country as reported by Bloggers. I happily contributed my answers about the Mountain West region. If you'd like to see how I answered, as well as what's going on in other regions, make sure you hop on over to
On The Daily Express
for some fun information. Ever wonder if Birkenstocks are popular anywhere else but Colorado, or curious as to what Jeans are popular in SoCal...this will be the place you can find all that info. Should be interesting to see if there are drastic differences happening around the country!!